Contact us and discuss your landscape needs.
Design Consultation
During the design consultation, our staff will personally come to your yard to "walk through" the process of planning and designing a garden with you. Why? Because the design must harmonize with your personal tastes, architectural setting, and growing conditions.

(view larger)
This initial consultation usually lasts about 1 hour, and the cost is $75. From this consultation, you will receive a list of appropriate plants, an outline of the proposed design, and an estimate of the installation cost.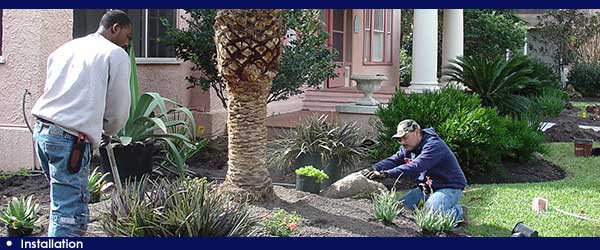 (view larger)
---
Planting

A planting by the Cottage Gardener includes:

Preparation of the beds
Selection and design of the plants
Mulching, and fertilizing
Enriched soil may be brought in prior to planting.

Breaking ground is an exciting step!

(view larger)
---
Continuous garden care
Continuous garden care by the Cottage Gardener usually consists of twice monthly visits. Of course, our clients are always welcome to call us for help or advice. During the visit, we perform the following maintenance activities as needed:
Pruning of roses
Trimming and clipping of plants
Weeding
Fertilizing
Pest control
Bed maintenance.
We use our own "cottage" blends of fertilizers, and we specialize in organic methods of pest control.